June 1st sees the release of
Get Up Go's
sophomore EP, 'You Jump, I Jump'. Below is a track by track review by both us and the band! See what we both have to say about the EP...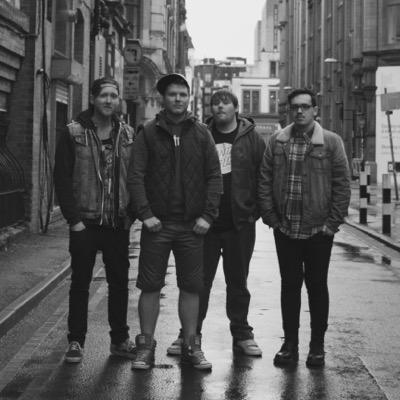 'The Road to Hell is Paved with Good Intentions'
Noizze -
The song is full of energy and enthusiasm and brings a real summer vibe to open the EP. The song breathes character and emotion. The chorus feels like a real get up and go anthem (see what I did there). The song is great and lyrically brings what is a more of a darker feel to a happily listenable place. It's the perfect way to start!
Get Up Go -
"This song holds firm for us. It very much marks the development of our style and showing how far we have come musically and personally as a band although the subject matter may tell another story. It's a lot darker lyrically than our other songs, the tale of unrequited love and the lengths people will go to gain validation, written from the viewpoint of a twisted mind. We hide it well though with a very bouncy, happy sound and a sing‐along chorus... Gotta keep it
Get Up Go
somehow."
'Balboa Complex'
Noizze -
From what the band tell this really marks the sound we have to look forward to in the future. If that's the case then we are very excited for the band's future indeed! It is difficult to pick out which part of the song is a highlight as it works so well as a whole. Saying that, vocals techniques are demonstrated incredibly and the raspy and rough voice that tells the story does so really well.
Get Up Go -
"This song is our latest. It details the very mind set of the band. No matter what life throws at us, we'll overcome it. This song is an absolute joy to play, being pacey and melodic with killer vocal sections. It's a touch more complex than the other songs in terms of sound. It also took us longer to write than the rest. A lot of hard work and heavy contemplation went into it and we are confident it reflects that. An absolutely perfect example of the direction we are heading."
'BK, Like OMG!'
Noizze -
A pop rock/punk band wouldn't be delivering what the genre does best without having fun and listenable music.
Get Up Go
have dropped this song at the end of the EP as a crowd involving fan favourite and surely it will be just that! The song is filled with sing-along moments and raw, punky sections. Its a banger of a tune.
Get Up Go -
"Quite possibly a unanimous favourite amongst the band and a definite single in the making. This song tells the tale of a deep seeded love and the unconditional willing to do anything in your power to maintain the romance. This song it's very close to all our hearts and will remain a favourite for the foreseeable future. It's a strong show of what we have to offer as a band and musically portrays how we gel. It has a strong flow and a chorus that makes the crowd feel like they are part of
Get Up Go
. In our opinion, this is an absolute whopper of a tune!"
Well as you can see, the EP is great. It is simply a shame that it ends after three songs... though
Get Up Go
still have so much to offer that this merely provides a taster for what is to come. Top effort lads!
Facebook:
getupgoband
Twitter:
@GetUpGoUK